Inspiration for Characters: Who Am I And Why Am I Here?
Inspiration for Characters
The inspirations for many of the characters in my books come from people in real life. Although my characters are not—by any means—based completely upon people I know, they do frequently contain snippets of personality, manner of speech, and history to help make them more three dimensional.
In an early post Who Am I? I wrote about the inspiration for my novella Vienna Bonbons which came from the completely fictional backstory for my dancers' recital ballet in 2012.
http://rebeccaradley.com/blog/post/2013-12-31-who-are-we/
The inspiration for the character, Bubba, in my novella Happy Holidays with Randie and Troy … and Bubba came from the stories my daughter-in-law told about her travels in South America with a young man who is very dear to my heart. In the book, Bubba mentions to Randie that he traveled the length of the Amazon by boat with his true love, Gabriela.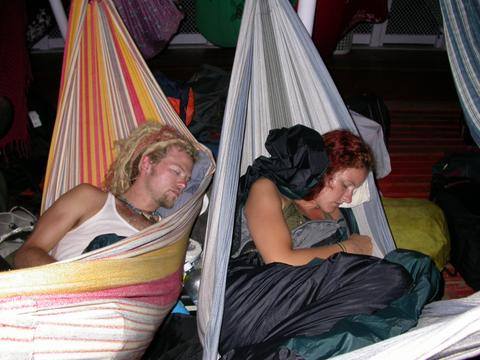 c. 2003 Dan & Jo On the Amazon
While going through the console in Bubba's car on the way to the General Pulaski Memorial Day celebration, Randie discovers the photograph of a younger, trimmer Bubba—his head a mass of golden dreadlocks—standing next to an alpaca on which sat a drop-dead gorgeous woman with skin the color of cafe au lait. Again, my son and the paler stand-in for Gabriela gave me the idea for the scene with the photograph in Happy Holidays ….
c. 2004 Dan & Jo In the Andes
As for the hand-fasting scene from Sombras del Pasado: Metamorphosis—complete with the trek up Enchanted Rock and the ceremony with the Druid—this one came from the same beloved travelers' wedding the following year.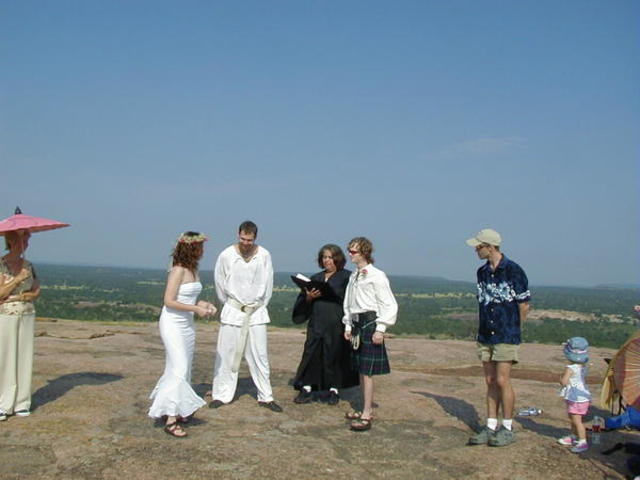 c. 2005 Dan & Jo Wedding on Enchanted Rock
If you are friends with any author, re-reading his works may give you the (indirectly acknowledged) answer to the reasonably asked question, "Am I in that book?"
Happy reading and happy search for self!
—Rebecca