Fat Free Vegan Oatmeal Cookies
When we started eating vegan two years ago, probably the hardest thing for me to give up was the eggs and dairy. I also had some difficulties following the recommendations of our gurus John McDougall, Caldwell Esselstyn, and Jeff Novick regarding eliminating oil from the diet. How can you bake anything without no-stick cooking spray? For this cookie recipe, I had the brilliant idea to line the cookie sheets with parchment paper and, I'm happy to say, the parchment paper worked like a charm.
This recipe is based on the Oatmeal-Apple-Raisin Cookies recipe from The Pritikin Promise by Nathan Pritikin. The main changes I made were to substitute brown rice flour for the whole-wheat pastry flour and flaxseed gel for the 3 egg whites.
A tip about grating the apples: I grate as much as I can of the apple quarters directly into the mixing bowl and then eat or discard the bit of apple left inside the peel.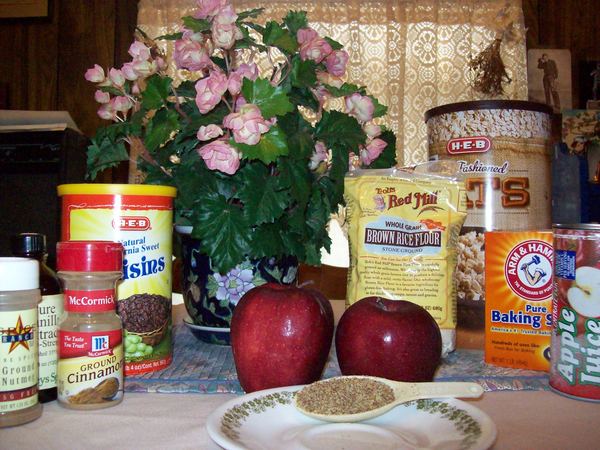 Rebecca's Fat Free Vegan Oatmeal Cookies
Ingredients
1 tablespoon ground flaxseed, plus 3 tablespoons water
3 cups regular rolled oats
1 cup your choice of flour (I used brown rice flour)
2 teaspoons baking powder
1 teaspoon baking soda
1 tablespoon, plus 1 teaspoon ground cinnamon
1/4 teaspoon nutmeg
2/3 cup frozen apple juice concentrate (thawed), plus 1/4 cup water
2 tablespoons vanilla extract
2 large apples, grated
3/4 cup raisins
Instructions
Preheat oven to 400 degrees.

Stir the 3 tablespoons of water into the ground flaxseed and let it sit to gel.

Mix together the oats, flour, baking power, baking soda, and spices in a large mixing bowl.

Add the thawed apple juice concentrate and water, together with the vanilla extract into the dry mixture.

Leaving the peels on, cut the apples into quarters and remove the seeds.

Holding the apples with the peel side up, grate the flesh of the apples directly into the mixing bowl.

Add the raisins and gelled flaxseed to the mixing bowl and stir to combine all the ingredients.

Drop the dough by heaping tablespoonfuls onto baking sheets lined with parchment paper, then flatten each mound with the bowl of the spoon.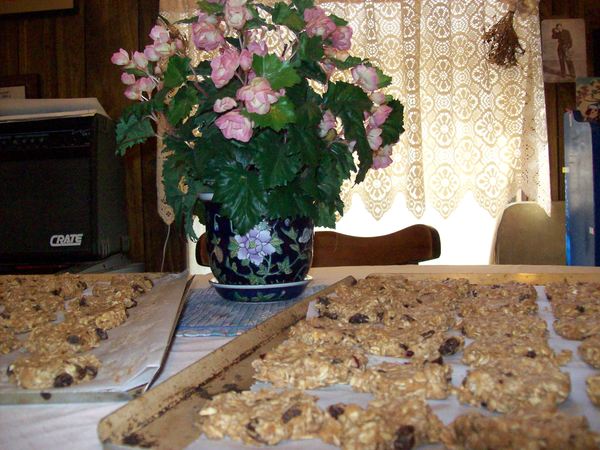 Bake approximately 20-24 minutes, switching the trays on the oven shelves at the half-way point.

Remove the cookies from the trays and cool on racks.

Store in ziplock bag or other container.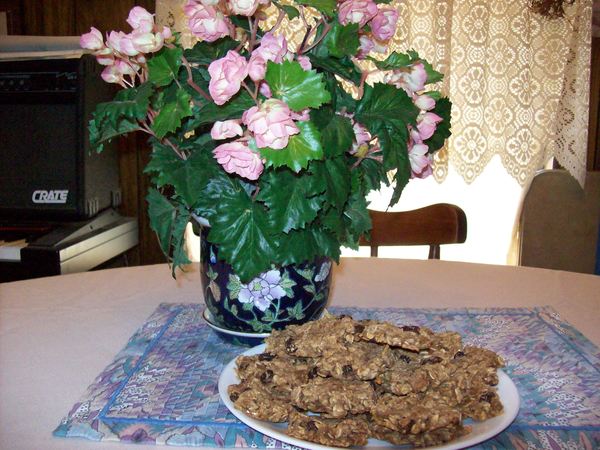 — Rebecca