Sombras del Pasado: Metamorphosis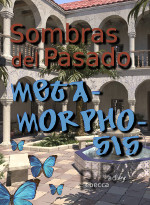 This book is available at these fine booksellers:
http://www.amazon.com/dp/B01E0FKSBG
About Sombras del Pasado: Metamorphosis:
In this sequel to Sombras del Pasado (Shadows of the Past):
Twenty years have passed and Lillie and Shane have their hands full with two teenage children—one who's arrested on the eve of Lillie's important trip to Dallas and the other who runs away that same night for parts unknown. But Lillie has worse problems than errant children. Her 65th birthday is coming up and she's not getting any younger. How long can she continue to keep her true age a secret?