Jewel of Fruit Pie
For the last few years, our "go to" dessert when my friends and I get together for a birthday celebration has been Jewel of Fruit Pie—a fat-free, sugar-free, vegan dessert. The sweetening for the filling comes from frozen concentrated apple juice.
This recipe is based on the Jewel-of-Fruit Pie recipe from Robert Pritikin's book The New Pritikin Program.
Jewel of Fruit Pie
Filling:
1/3 cup apple juice concentrate, partially thawed
1/2 cup water
2 Tbsp. cornstarch
1 lb. frozen berries (I use HEB's Berry Medley), partially thawed
1-1/2 cups frozen cherries, partially thawed
1 medium apple, grated
Crust:
1/2 cup, plus 1 Tbsp. nugget cereal
2 bananas, ripe
Combine the apple juice concentrate, water, and cornstarch in a large saucepan. Cook until thickened.
Stir the partially thawed berries, cherries, and the grated apple into the cornstarch mixture.
To prepare the crust:
sprinkle the nugget cereal into the bottom of a pie pan
slice the bananas lengthwise and place over the nuggets
Pour the filling over the bananas and spread evenly.
Bake in 350-degree oven for 45 minutes.
Refrigerate and serve the following day.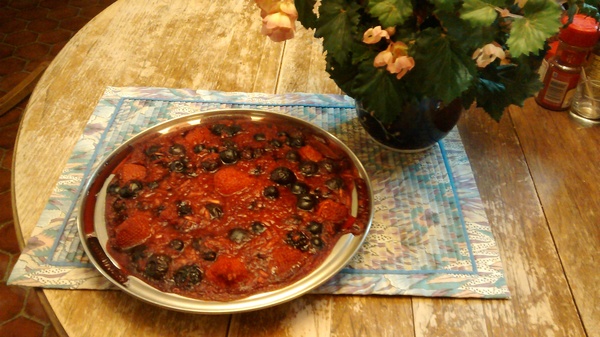 — Rebecca