America's Junior Miss Interview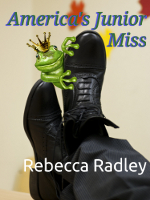 Here is an interview I did for Free Books Daily in August of 2014, during a book promotion for America's Junior Miss.
Take the link to the interview online, or read the Q&A below.
http://www.freeebooksdaily.com/2014/08/rebecca-radley-talks-about-her-book_20.html
Genre: Modern Day Fairy Tale
What was the inspiration for your book?
The inspiration came from my son when he was in high school. He wore his hair long and flowing like Galahad and had the most delightful personality (still does—as to the personality and, until fairly recently, even the hair). It would have been just like him to decide to enter the local Junior Miss competition.
Main Characters:
Georgette Gaines - Emile's mother, a psychiatrist, who has just written the best selling book "Empowering the Repressed Wild Woman." When she becomes depressed over the suicide of a patient, Georgette seems to be able to help everyone but herself—and she doesn't appreciate her son's interference in her recovery.
Emile Hebert - a high school junior who has made an unbeatable team with his mother until she becomes so depressed over the loss of a patient, he suddenly can't seem to do anything to cheer her up. The kid tries everything he can think of, from joining the women's field hockey team at school, to dressing up like Cindy Brady on Brady Day, and dancing with the pompom squad. His last ditch effort—on a grand scale—is to try out for the Young Miss Scholarship program.
Angela Everhart - a high school junior in another town. She's a straight A student and an accomplished pianist, but she's some pounds overweight and not the most attractive girl in school. Wouldn't you know, she's got a crush on a boy who won't give her the time of day? Maybe if she tries out for Young Miss, he'll notice her then.
Mamie Bergman - Georgette's friend from college, who wishes she and Georgette were more than friends. She's as worried about Georgette's depression as Emile,and is having an equally hard time breaking through Georgette's wall of resistance.
Setting:
The main action of the story takes place in four communities in New Hampshire. The mythical towns of Brisbane and West Epping, and the real towns of Concord and Portsmouth. I wanted the story to take place in the Northeast, where field hockey is a common high school sport, because I wanted Emile to wear a kilt.
P.S.: There are also a few early scenes in Berkeley where Georgette, Mamie, and Georgette's husband Hercule reside.
What makes this book a great read?
The story has a lot of humor and heart. Men seem to like it just as much as women. And, although the genre is difficult to pin down, I like to think that a broad spectrum of readers will enjoy it.